INCLUSIVE ROADS Drive by BLIND WOMEN
We don't say, make a different way for us. We want you to use roads rightly so that we can use them too'. That was the theme of the INCLUSIVE ROADS AWARENESS DRIVE by Blind women of NAB India, Hauz Khas, Rotary Club of Delhi South Metropolitan & Socio Research & Reform Foundation (NGO)-SRRF at Janpath-Tolstoy Marg intersection and the adjacent pavements today (13th September 2014) which was amazingly well received.
People listened to blind women, vacated the pavements, recesded from zebra crossings, waited for lights, to cross…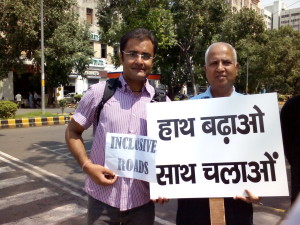 The motorists listened to our inclusive roads volunteers and accepted to move back from zebra crossing quite easily…. but most shocked were pedestrians….they just had never noticed the presence of a light for pedestrians… were so shocked to be stopped by our volunteers.
The blind women walking on pavements had to literally fight with some encroachers to leave the walkways barrier free as encroaching vendors have never considered this as a right of pedestrians. But looking at blind women they had to give way as the white canes ahead of the women would spoil their merchandise. Shopkeepers were surprised at smart blind women on streets walking independently demanding their right to walking space.
The Traffic police men were very pleasantly thankful to these blind women as they feel motorists don't listen to them so easily while they were immediately moved by the polite courage of blind women to walk up and request. White Canes proved powerful!!
But the infrastructure on roads is the main spoil sport. Some dividers on the road just don't have space to walk for blind people leave aside for a wheel chair. The signals could easily have beepers for blind persons to cross independently. Worst were buses which have GPS sound systems but never put them on as there are no orders…and the blind people keep requesting for fellow passengers to inform about their stop but mostly they are never told and have to travel for hours beyond their own stops.
The DRIVE will arrive at all major crossings wherever there is mayhem, every month. We thank our IIT, SRRF and Rotary Club of Delhi South Metropolitan volunteers.
SHALINI KHANNA
HONY. SECY.
NAB INDIA CENTRE FOR BLIND WOMEN AND DISABILITY STUDIES
L-25, Haus Khas Enclave, New Delhi-110 016
011-41656266; nabindiacbw@hotmail.com