FEEDBACK REPORT ON
Service Tax, FCRA & Taxation for NGOs workshop
[Saturday, 9th May 2015, India International Centre (Annexe), 40 Max Mueller Marg, New Delhi – 110003]
Dear Friends with a special Hello to all the Participants who attended the workshop
I thank all the participants who attended the workshop. My personal thanks to each one of you for finding time to be at the workshop and making a success of it through your extensive interactions. Through this communication we share your feedback and other details that we promised during the workshop.
The Feedback forms have been compiled and collated. There were 52 participants, almost 80% of whom have given their feedback. Feedback required scoring for each session as well as for overall workshop. The feedback gives score of 80% for the overall workshop. While quite satisfying, however we are not going to sit on our laurels and would try our best to further improve the quality of these sessions. Session-wise results are attached below.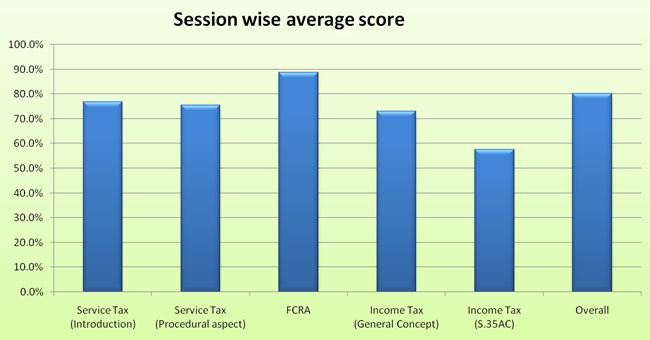 One of the oft requests coming is that there should be an introduction session. Yes I believe this should have been there, we always do it, but we erred in not keeping with this tradition, where everyone gets to introduce oneself and also mention the expectations from the workshop. I think pressure on managing time got the better of us. To make up, we are now providing a list of participants and their background. Please click on the link http://www.srr-foundation.org/workshop/may_2015/list_of_participants.pdf. There were some requests for the email ids' too, however as we have not taken any specific permission from the participants to share their e-mail ids' on net, it would not be proper to provide the same. However I am sure in today's time of social media connectivity, connecting to these persons would not be problem.
A few requests to organize similar workshops in different parts of the country have come, one from Chennai, another in Patna and another in Raipur. We will contact the concerned persons and hope to work with them. In case any of you are interested in organizing similar workshops in association with SRRF, please do contact us.
Several requests are there for more time to cover different topics. I agree that time is always a constraint and more time will always be better, perhaps we need to consider either having the workshop over two days or to reduce the topics being covered.
On technical side, I would like to update that our 'Reference Material' folder included an FAQ on CSR issued by the Institute of Chartered Accountants of India (ICAI). ICAI has since issued a Guidance Note on Accounting for Expenditure on Corporate Social Responsibility Activities. Subsequent to this the FAQ issued earlier by ICAI have been withdrawn. You can download the Guidance Note from the link http://csrsupport.org/doc/Guidance_Note_by_ICAI_CSR_150515.pdf. A summary of this Note would also be issued soon on this forum for your reference.
Once again I thank you on behalf of SRRF in being part of organizing such a wonderful and learning workshop.
Thank you.
Subhash Mittal
(Secretary)
__________________________________
Socio Research & Reform Foundation (NGO)
512 A, Deepshikha, 8 Rajendra Place,
New Delhi – 110008