With neighbourhood parks turned into gardens and colony lanes lost to parking, children across the city are left with no space to play in. It is the Resident Welfare Associations (RWAs) – representative bodies – that have taken the lead to convert grounds into gardens ever since Municipal Corporation of Delhi (MCD) empowered them to maintain colony parks under the public-private partnership (PPP) scheme.
MCD receive many complaints about disappearing playgrounds from parents and hence have asked all RWAs to allocate a portion of the park for children. The Corporation has close to 15,000 parks, of which nearly 200 are for children. In a significant ruling last year, the Delhi high court had said no one can prohibit children from using a park as a playground.
On the other hand, huge playgrounds developed by Delhi Development Authority in areas like Hauz Khas, Kalkaji, Rohini and Vikaspuri provide much-needed open spaces to children in the neighbourhood. However, there are only 26 such playgrounds in the city.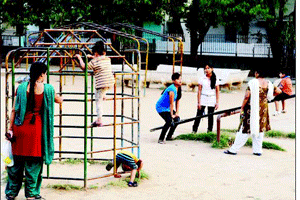 ________________________________
Socio Research & Reform Foundation
(A Non Government Organisation)
512 A, Deepshikha, 8 Rajendra Place, New Delhi – 110008
Tele/Fax: +91-11-25821088, 25817157, 25722044
e-mail: socio-research@sma.net.in