Feedback Report of Workshop
Responsible CSO Boards of the Future
[Saturday, 19th March 2016, India International Centre (Annexe), New Delhi – 110003]
Dear Friends with a special Hello to all the Participants who attended the workshop.
We thank all the participants who attended the workshop which was one of the most interactive workshop organized by SRRF so far. Credit for this goes to all the participants, who engaged the faculty and remained focused throughout the day. Through this communication we share your feedback and other details that we promised during the workshop.
The Feedback forms have been compiled and collated. There were 29 participants, 72% of whom have given their feedback. Feedback required scoring for each session as well as for overall workshop. The feedback gives score of 92% for the overall workshop. A chart of session-wise results is given below.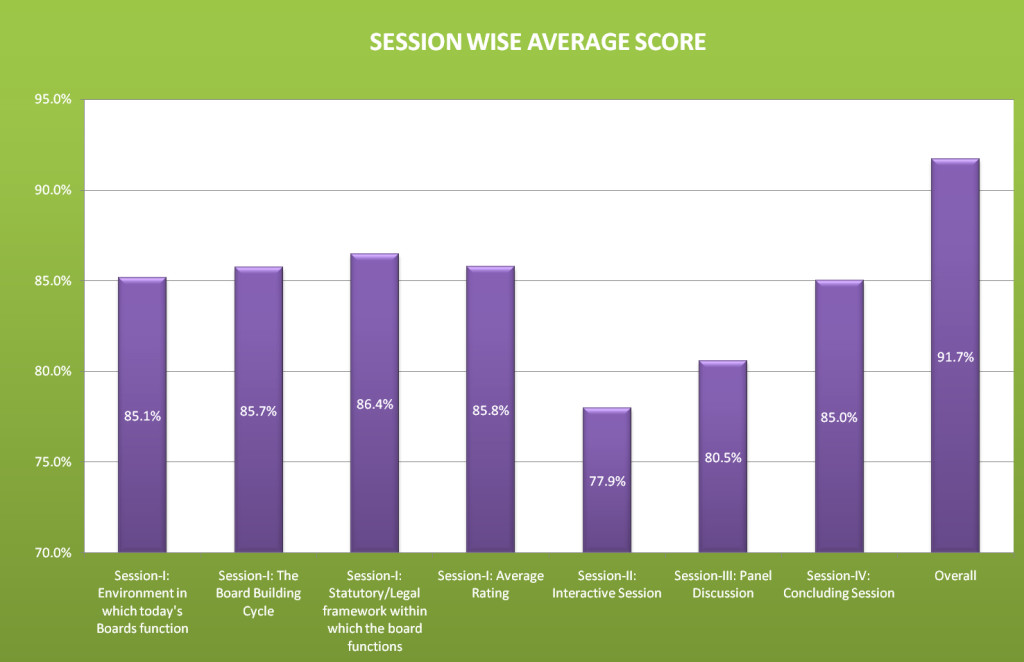 Following suggestions are given by the participants:
Should improve Panel Discussions.
Include few more case studies.
More interaction on basics.
Little more space for participation of participants would have made them more interactive.
Corporate could also be involved in some discussions.
Small water bottle in the lecture room should be served for every participant.
To organize some more workshop covering several other topics like Accounting for NGO's, Changes and updates related to statutory compliance , Taxation,  CSR .
(Note: SRRF has been regularly organizing training programmes in these areas since the year 2010.)
We will try to consider all your suggestions to further improve.
We have also uploaded the presentations of the workshop at our website including snaps. Please visit SRRF website to get access to the same.  http://www.srr-foundation.org
We have also uploaded the snaps of the participants on SRRF facebook page.  https://www.facebook.com/srr.foundation/.
Once again I thank you on behalf of SRRF, on being a part of a wonderful and learning workshop on 'Responsible CSO Boards of the Future'.
With warm regards
Ramanuj Maurya
Coordinator
__________________________________
Socio Research & Reform Foundation (NGO)
512 A, Deepshikha, 8 Rajendra Place, New Delhi – 110008
e-mail: socio-research@sma.net.in; website: http://www.srr-foundation.org