On February 12, 2010, Rouvanjit Rawla, a 13-year-old  student from Kolkata committed suicide after being caned in school. One year later, of probe- The tough new guidelines have begun to be formulated to protect children.
For the first time a strict code of conduct for teachers is being drawn by the National Commission for Protection of Child Rights (NCPCR). This will happen if new guidelines to define discriminatory treatment, mental and physical harassment of schoolchildren being drawn up are accepted by the Human Resource Development Ministry. Once approved, these will be sent to states for implementation.
Teachers canning or driving children to take drastic steps will have to seriously rethink; calling a child names on the basis of skin colour, body structure, gender, religion and caste by teachers could very soon invite disciplinary action, even sacking in some cases.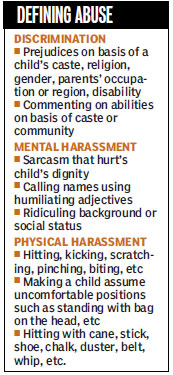 Source: Moushumi Das Gupta, Hindustan Times New Delhi, Feb 13, 2012
________________________________
Socio Research & Reform Foundation
(A Non Government Organisation)
512 A, Deepshikha, 8 Rajendra Place, New Delhi – 110008
Tele/Fax: +91-11-25821088, 25817157, 25722044
e-mail: socio-research@sma.net.in